Dyslexia and the Law
The 
READ Act
 is the 
Research Excellence and Advancements for Dyslexia Act
 signed by US President Obama in February 2016. READ aims to  increase dyslexia research,  improve awareness, promote early identification, and increase use of proven instructional interventions.  READ's goal is to assure a free and appropriate public education (FAPE) for the 8.5 million dyslexic K-12 students, whose rights to FAPE are already protected by
existing
federal laws which are poorly executed at the school level.  
Teachers
.
   because dyslexia "is a disorder that is not diagnosed through the regular special education process," says Dean of the College of        
   Education at Southeast Missouri State University, Dr. Diana Rogers-Adkinson.  (Aug. 10, 2016) 
Dyscalculia Research Centers



The Yale Center for Dyslexia and Creativity

at

Yale University

,

School of Medicine

is headed by Sally and Bennett Shaywitz, M.D.s. It is the leading center for dyslexia research, diagnosis, treatment, public policy and advocacy. It also contains an index of successful dyslexics. Yale is located in New Haven, Connecticut, USA.  






Dyslexia Neuro Imaging Study

is recruiting dyslexic participants ages 10, 11, and 12 at

University of Southern California,

in Orange County.  

The USC Dyslexia Project will compensate participants with money and toys.  Call (323) 736-2635 or email Hadley McGregor or May Orozco at candl@loni.usc.edu.  The goal is to study how interventions improve reading outcomes and to ultimately improve dyslexia identification and treatment.  (posted 4/21/2016)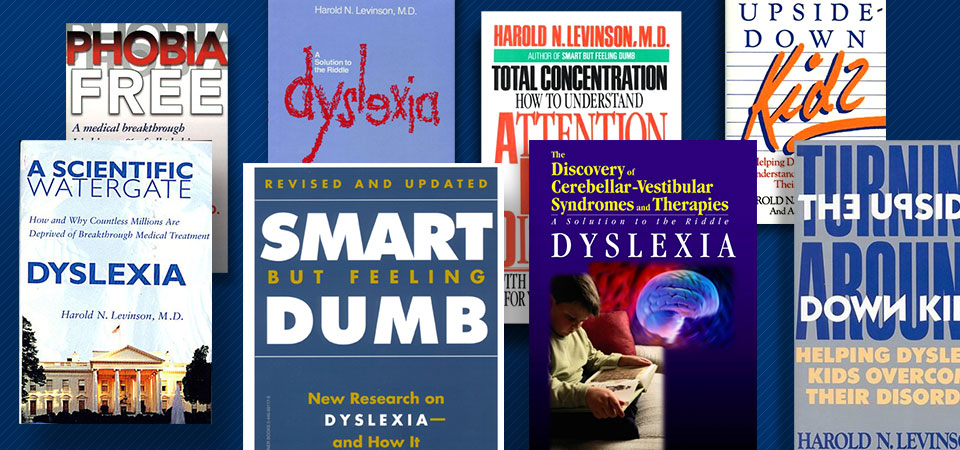 Cerebellar-Vestibular Dyslexia

Dr. Harold Levinson at  Levinson Medical 

treats dyslexia as a cerebellar-vestibular or inner-ear disorder. 

He is the author of several famous books on dyslexia, ADHD and dysgraphia diagnosis and treatment. When letters and words appear to move and reading produces seasickness, Dr. Levinson treats it with anti-motion, anti-seasickness medications. In addition, he uses a variety of targeted treatments, as symptoms dictate, incorporating the latest science on dyslexia. 
The University of Michigan-Ann Arbor
Visual Processing and Dyslexia
Trouble reading? Get  
The Visual Evoked Potential Test
. 
The VEP measures the time that it takes a visual stimulus to travel from the eye to the occipital cortex and shows abnormalities in neural pathways (optic nerves)
.
VEP Providers
. 
 NEWS: Livonia, Michigan Eye Doctor Discerns Source of Girl's Reading Disability with 20/20 vision.
IRLEN.com
 The science of lightwave sensitivity affecting visual perception. 
A presentation by Laurie Cestnick @ 
Harvard University. 
Auditory Processing and Dyslexia
Fast ForWord
is a program to correct an aspect of Auditory Processing Disorder that contributes to Dyslexia. 
Teaching Methods for Dyslexics
The
Orton-GIllingham Method
is oldest (1920s), & most used method, developed by
Dr. Samual Orton
and his assistant,
Anna Gillingham
.
Most schools have teachers trained in the Orton-GIllingham method. This method should be used, 30-minutes per day through the RtI or MTSS program in USA schools, as a Tier 2 and Tier 3 intervention.  
Outside sources of O-G instruction: The Masons offer free O-G training for dyslexics.  
Movies, TED Talks, & Video on Dyslexia
Dyslexia Articles 
The Dyslexic CEO:
  Some of the world's most famous and important innovators were children who had great difficulty in sc
hool b
ec
ause they could not acquire the skills of reading and writing expected of all children. Over human evolution, the 
brain has enlisted a number of areas to handle the 
recent inventions
 of reading and writing, whereas oral language is hardwired. Minds that seem "defective" 
i
n the school environment are extremely creative, efficient and innovative in the business world. Explore how terrible readers became fa
mous millionaires 
K-12 Schools for Dyslexic Students
Digital & Audio Books for Dyslexics
(1)
Bookshare
1- create a free membership here
2- enter the ISBN of your textbook to search for the digital version
Ex. Pre-algebra (ISBN: 9780078885150)
3- Search free books
(2)
Project Gutenberg
Free Ebooks
(3)
Open Library
(4)
OverDrive
(ebooks through your library)
(5)
Librivox
Free Audio Books
(6)
Books.Google.com
(7)
Learning Ally
(used to be Library for Blind and Dyslexic) $130./yr.